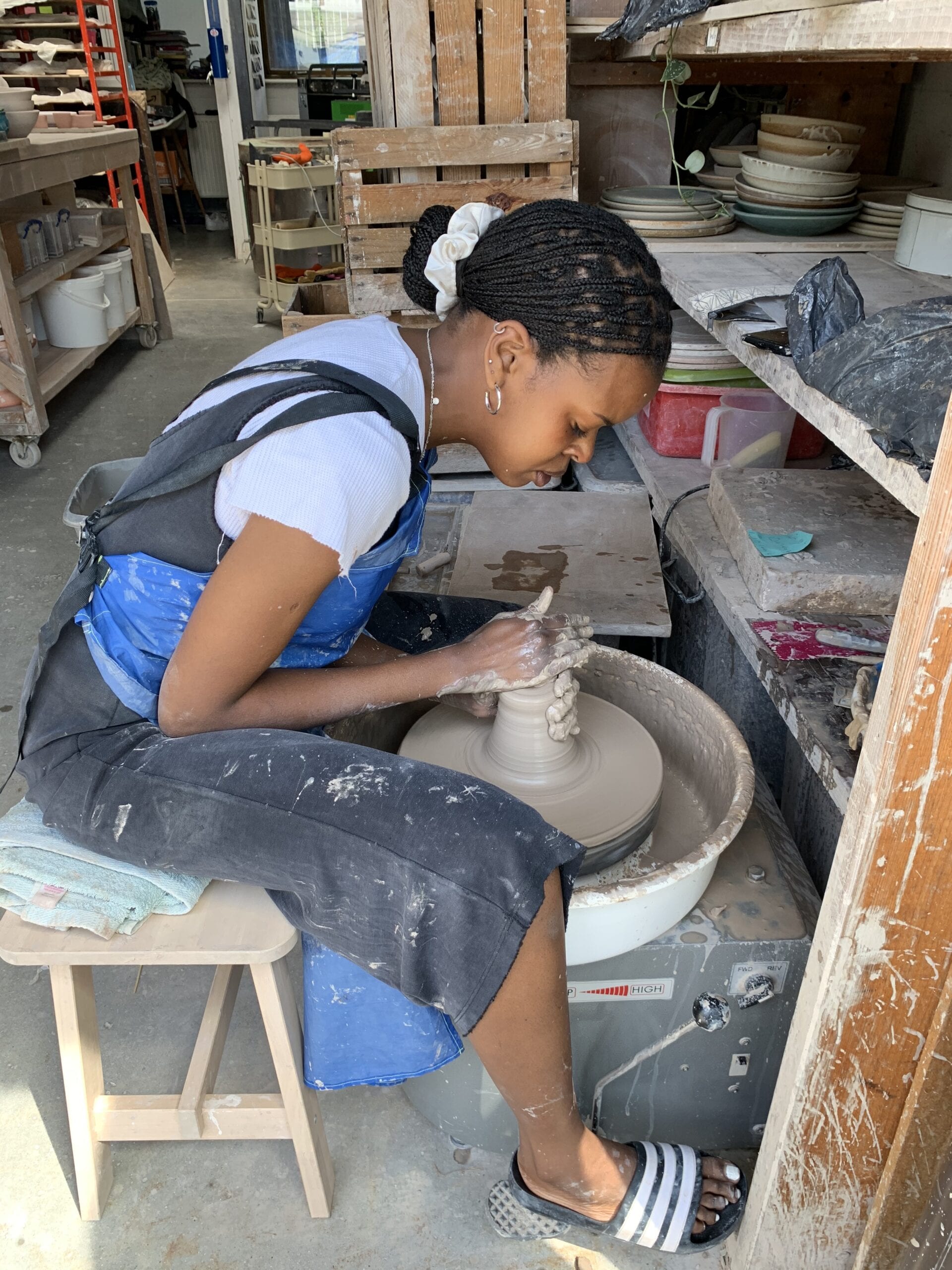 Celebrating our artists
We feel it's important for you to understand the story behind each item we offer at IOTA, we want you to know where it was spawn from, who's hands crafted it and what was their inspiration. We take pride in carefully curating our collection by selecting artists whose work we truly admire, and we wanted to tell you a little bit about three of our incredible female artists whose pieces are available to buy in the IOTA shop or by appointment at our showroom in Hackney.
Michelle Mtinsi – Ceramicist, East London
Michelle graduated from Central St Martins in 2018 with a BA in ceramic design. She focussed mainly on slip casting for the duration of her course, finding enjoyment in the uniformity of the pieces she created using this technique. She approaches each new mould as if it were a challenge, like solving a puzzle. Since leaving university she took up throwing, gaining a huge amount of experience by assisting London based Jess Jos.
We went to visit Michelle at Jess Jos's studio in East London, she was working on the wheel creating pots for a café in East London. Michelle has grown to love the wheel and appreciates the little differences she now finds in her work. "I like the challenge of keeping everything the same, working out the maths in order to obtain a certain size however it's the little differences that give thrown and hand-built pieces personality and charm". Just a stone's throw from her wheel you can see a pig pen and in the next-door field, a small herd of goats balanced preciously on a wooden structure. "It's perfect" says Michelle "I help Jess out for a day and she lends me her studio for a day, Jess has been such an amazing role model for me and has taught me so much technically but also about how to make a career out of my passion"
If you are after truly unique ceramic tableware, then you will adore Michelle Mtinsi work. Her carefully crafted ceramics are neutral yet striking in their simplistic form and the perfect edition to any home.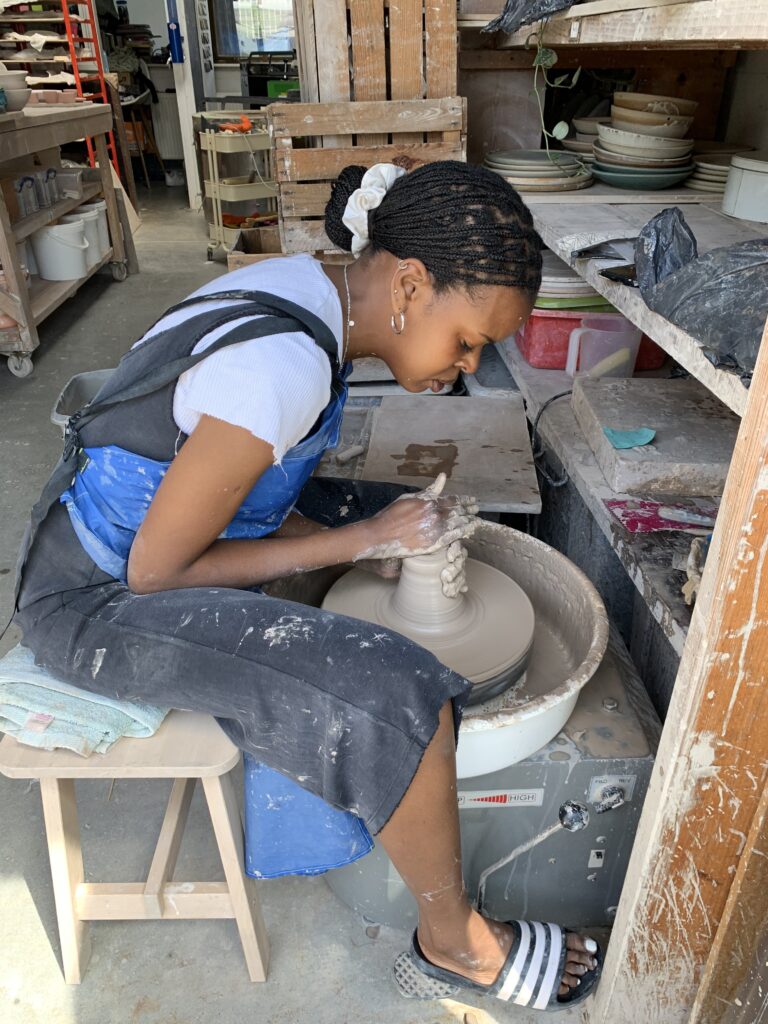 Ella Bua – Ceramicist, Margate
Ella Bua is a self-taught potter with a background in fine art, she studied painting at University and once she had completed her degree she had an urge to re-engage with the making process which led her to join a pottery studio and she soon began to develop a personal style and passion for pots. Ella is based in Margate where she runs her own studio 'Crafty Bua Ceramics' in her home. Her pieces are tactile and deliberately imperfect, inspired by the sea, land, and sky. IOTA is a huge fan of Ella's work, one of our favourite series is 'Ladies', you can find these beautiful busts in our online shop. The figures are inspired by classical Greek sculpture and are intended to be celebrations of the female form. "When I am making one of these women, I don't begin with any specific idea of how I want the figure to look, I shape the clay with my hands and respond to how it feels. As in life, each body is unique."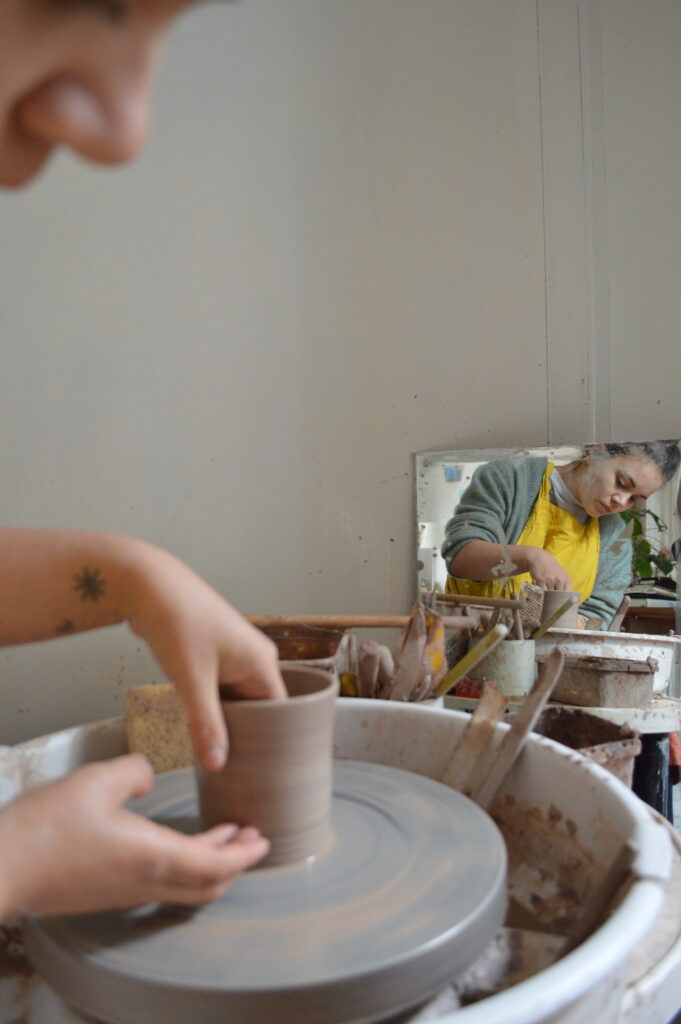 Meg Fartharly – Printmaker, Kent
Megan Fartharly was born in Edinburgh and grew up by the coast. She graduated in 2018 with a BA in Drawing from Falmouth University and found solace in the printmaking process. Megan utilises traditional techniques and manipulates different surfaces to play with texture and layering. She plays around with various ways of bringing fragments together by using collage and drawing. Scale is an important aspect of her work, with many of her pieces measuring just 2cm in size. Delicate linework and subtle, intricate layers come together to form individual narratives which allow the everyday to be explored. She is inspired by the mundane intricacies of interiors, hidden spaces and elevating forgotten memories. Collages are created using gouache and handmade papers. She utilises processes like embossing and experiments with new ways of creating a narrative through the manipulation of surface.
We have a few different series by Megan, each of them a limited-edition series of embossed paintings. Check out the shop to view Megan's wonderful work.